Reproductions – something for the masses – by Reyne Haines
January 14th, 2010 by
admin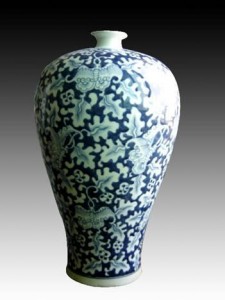 Early in my career, I had the opportunity to sell a one of a kind Tiffany lamp.  The thought of selling it at auction was the first decision made, because with a "one of a kind" you have no comparables in which to price it by.
By the end of the sale, the lamp had sold for $1,750,000 (plus buyer's premium).  At the time, it was the 2nd highest price achieved for a Tiffany lamp at auction. I thought to myself, "Who pays that kind of price to light a room?"
That question brings me to another one…Are reproductions something you should buy?  The answer is yes, and no.
Not everyone has $1,750,000 to spend on a lamp, but that doesn't mean they shouldn't be able to acquire something similar if they like the look. So, if it fits within their budget to pay, let's say…$350 for a similar, new lamp – should they walk away because it's not the real thing?  I would have to say no.
Now, should the same person buy a reproduction of a lamp that sold for $1,750,000 thinking that one day said lamp will be worth a similar price?  Definitely not.
Someone told me once that a reproduction is the finest form of flattery.  And if you think about it, it's true.  I personally see nothing wrong with a reproduction as long as you are told it's a reproduction and pay accordingly.
Reproductions also aren't the same thing as fakes.  A "fake" item is meant to deceive.  A reproduction doesn't start out life as something meant to fool. The only thing potentially "bad" about a reproduction, is the person selling it.
There isn't a category of collecting I can think of that doesn't have reproductions of some form.  Most of them have some sort of marking that lets you know the item is new (for those not well versed in collecting such items).  What we find happening with these tags, or signature, stamps etc, is the end up being removed by a seller, and then placed on the market as an original.  Nine times out of ten, if you were an seasoned collector, the lack of mark or tag would not fool you, however it works on new collectors enough times to keep the bad people doing it again and again.
Reproductions can be quite profitable for the less than honest seller. They are bought for a fraction of the cost of an original, and are sold (and auctioned) commonly for a retail price.
There are numerous sites on the Internet that educate buyers on reproductions.  With a few clicks of the keyboard, you can read all about what to look for, where it comes from, and what they are selling for new.
There are also a few publications that are handy guides to take along with you on your antiquing jaunts. Amazon.com offers: Antique Trader Guide to Fakes and Reproductions by Mark Chervenka.
Remember, the more you educate yourself on the type of items you collect, the better versed you'll be when faced with making decisions to buy…or not to.
Recognized 20th Century Decorative Arts Expert and Appraiser.  As seen on CBS "The Early Show" and NBC's "The Art of Collecting". Haines has written numerous articles and books on collecting. Her most recent pubication is "Collecting Wristwatches" for Krause Publications which comes out April 2010.  Reyne is a frequent appraiser on PBS Antiques Roadshow.