Fun with Furniture Terms (that You Should Know) by Reyne Haines
January 6th, 2010 by
admin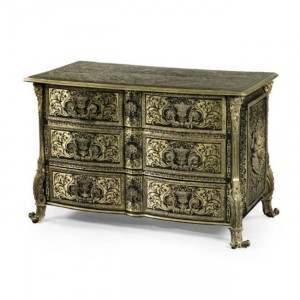 Furniture…everyone has it and some even know how to decorate with it. As with any industry, antique and vintage furniture collectors have a lingo of their own.  I've picked out some common, and not so common, terminology I thought would be fun to talk about.
You might think to yourself, "Who are these people?" when you hear William and Mary.  This reflects a style of furniture that has Dutch and Chinese influences and was made from 1640 to 1725.  Queen Anne was a very popular period of style made from around 1700 to 1755 and refined William and Mary.  So what comes to mind when I say Chippendale?  Okay, but just know that Thomas Chippendale was a British designer and namesake for the style from around 1750 to 1790. This movement followed the Queen Anne period.  Chippendale style can be characterized by the Chinese, French and Gothic influences. 
Ever heard of Charles of London?  This term refers to a sofa or chair with rolled arms and is still used today.  Don't confuse the rolled arms with a recamier, which is typically a sofa with a sloping back from a high end to the lower end, sometimes going as low as the seat itself.  These elegant pieces were also known as fainting couches and were quite the style in the Victorian era. 
If you hear the house was decorated eclectic you know there were different styles and periods combined harmoniously together.  The blending of various styles is considered to be transitional.
Patina is not limited to the green film on bronze produced by oxidation over a long period of time.  It may also be used to refer to the changed outer surface of furniture caused by polishing or wear and through age and exposure.  Not to be confused with scale.  That term is reserved as a means to describe how the size of various objects appear in relationship to one another in the space provided for them.
When a furniture maker turns something such as a table leg, they are shaping it on a lathe.  The "H" or "X" shaped brace used horizontally to connect the legs together is known as a stretcher.  The tester is a frame made of wood used to support the canopy over a poster bed.  A piercing refers to the cutout design on the splats of a chair back or other 18th century furniture.  Splats are simply a vertical support piece in an open back chair and are generally decorated with carved designs.
As you can see, a period, adjectives, verbs, nouns and pronouns all have unique meaning in the antique world of furniture.  So, if you should ask your antique dealer where the commode is, please don't be surprised or upset if they show you a late 17th century chest of drawers with a smooth flat marble top that may have small doors on the front of it.